Respiratory masks with a twist: the innovative face mask from Berlin's PPE Germany GmbH – Effectiveness, Materials, Sustainability, and Comfort put to the test.
The impressive production capacity of up to 45 million medical and FFP2 masks per month is noteworthy. Within just three years since its establishment in Berlin, PPE Germany GmbH has become a leading manufacturer of respiratory masks, producing within Germany and Europe. Max Leber, Sales Director of PPE Germany, recalls that the COVID-19 pandemic turned our lives upside down and led to a strong global demand for respiratory masks. "This laid the foundation for a rapid establishment of mask production, as there was a problem with on-site availability and independence of supply chains to ensure adequate supply in Germany," Leber remembers. Today, PPE Germany's masks are considered among the best in their class, suitable for use in healthcare, occupational safety, and personal use. One key success factor lies in the innovative mask model "Dodo Air Medical," which protects not only patients but also medical personnel. "The innovation of Dodo Air Medical includes, besides a novel design, a dual certification as both an FFP2 mask and a Class 1 medical device, which convinces hospitals, pharmacies, and care facilities," says Max Leber.
Suitable respiratory masks offer protection and help reduce the spread of diseases, both in occupational safety and general settings. Max Leber emphasizes that not all masks provide the same level of protection, as they are offered in different protection classes, and material quality and comfort play crucial roles.
Different Protection Classes of Masks
A mask should not only fit snugly but also be made of a material that offers high filtration efficiency. Generally, there are three protection classes: FFP1, FFP2, and FFP3 masks. FFP3 masks provide the highest level of protection against airborne particles such as viruses or bacteria. However, when using FFP masks, it is essential to consider whether they are suitable for the individual wearer. Max Leber points out that during development, great emphasis is placed not only on quality but especially on fit, low breathing resistance, and high comfort. "These masks adapt perfectly to the facial shape with their ergonomic design and elastic ear loops, providing a secure and comfortable fit for hours," explains Max Leber. He adds, "We know that ill-fitting or poorly manufactured masks can quickly become uncomfortable or even cause allergic reactions." This is problematic, especially during extended wear, as it may lead to the mask being removed or not worn correctly. Masks in different sizes and materials offer a solution.
Apart from effectiveness, sustainability factors and quality management play a crucial role in the field of personal protective equipment, such as respiratory masks. Sustainability involves not only the disposal of products but also the materials from which they are made. The use of sustainable materials such as organic cotton or recycled plastic contributes significantly to environmental protection. "We meticulously consider the entire cycle of our work from a holistic perspective. This comprehensive approach can only be considered responsible if we also ensure precise control of the manufactured products. This way, we promote quality not only within our company but throughout our entire supply chain," says Leber.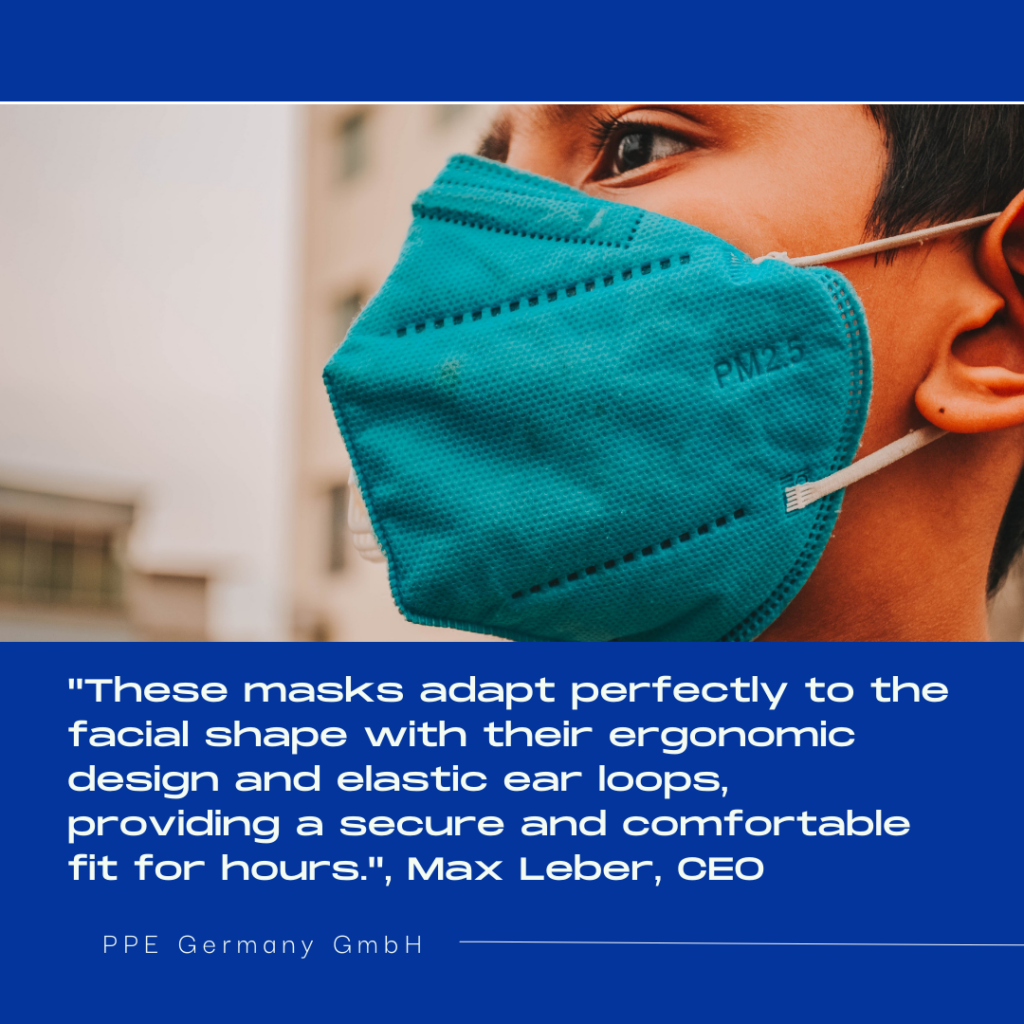 The Mouth-Nose Mask Solution by PPE Germany GmbH
The FFP masks from PPE Germany GmbH in Berlin are particularly convincing in this context. PPE Germany has its own testing laboratory, including a Palas test rig. Max Leber explains, "When measuring FFP2 masks, we naturally rely on the experts in aerosol technology, Palas GmbH from Karlsruhe." Palas is a market leader in the development and production of filter test rigs and optical aerosol spectrometers. PPE Germany GmbH uses the modern Palas PMFT 1000 system as its own test rig. "The precise, computer-controlled analysis provides accurate information about the performance of our products," says Leber.
Max Leber emphasizes that, in addition to protection, breathing is a key focus, particularly breathing with a mask. That's why the PPE group continues to work on innovative solutions to explore maximum protection with comfort and minimal breathing resistance. Breathing is an unconscious process that supplies us with oxygen and ensures our well-being. A conscious and correct breathing technique has positive effects on the body and mind, ensuring that we feel strong and can breathe through challenging times. "This presents a challenge for the mass production development department, which the PPE group is working on," says Leber.
V.i.S.d.P.:
Maximilian Bausch
Management Consultant & Blogger
Maximilian is enthusiastic about automation as a tool for simplifying work. Development is his passion. Nothing works without automation anymore, be it in industry, craftsmanship, or services. Generations X, Y, and Z are completely digitalized, and the future is shaping up anew – boundaries are disappearing. Maximilian considers himself one of the young native digitals with the idea of using automation across the board. In his blog bausch-enterprise.de, he deals with artificial intelligence and digitalization, relying on the future workshop to break down prejudices and fears of automation. This way, he positively supports the path towards economic efficiency for companies by embracing communication and discussion. You can reach us at abowi.com.
Contact Information:
PPE Germany GmbH
Mertensstr. 63-115
13587 Berlin Germany
Tel: +49 30 202366380
Email: anfrage@ppegermany.de
Website: https://ppegermany.de
Contact Person:
Max Leber,
Managing Director and Sales
Press Contact:
PPE Germany GmbH
Mertensstr. 63-115
13587 Berlin Germany
Tel: +49 30 202366380
Email: presse@ppegermany.de
Website: https://ppegermany.de
Company Description:
PPE Germany GmbH, based in Berlin, is a specialist in respiratory protection made in Germany. PPE Germany is one of the major European mask producers for high-quality FFP2 masks and started production in 2020 to ensure the supply of protective equipment to the public. PPE Germany protects the health of people who must work and live in challenging air conditions, such as viral contamination, hospital germ contamination, bacterial contamination, dust, fibers (e.g., mineral wool), industrial exhaust gases, and fine dust. All PPE Germany products are certified and subject to the strictest testing standards. For more information, visit: https://ppegermany.de.
FAQs:
How can I ensure that my respiratory mask offers optimal protection?



Several factors influence the protective effectiveness of a respiratory mask. Key considerations are the filtration efficiency of the material, the fit, and the quality of the construction. It is advisable to choose a mask with a high protection class (FFP2 or FFP3) and made of sustainable materials. Sufficient ventilation in the mask is also essential to avoid breathing discomfort.

Is the use of FFP3 masks always advisable?

FFP3 masks offer the highest protection against airborne particles like viruses or bacteria. However, it is crucial to check whether FFP3 masks are suitable for the individual wearer. People with breathing difficulties or impaired lung function should seek medical advice before using FFP3 masks.

How do I properly dispose of my respiratory mask?

As respiratory masks are typically disposable products, they should be disposed of properly after use. The specific disposal method may vary depending on the type of mask and local regulations