Application FFP3 masks as personal protective equipment – professional respirators with particle filtration of solid and liquid particles and aerosols. Health hazards due to pollution and fine dust in the construction industry.
The use of FFP masks is not only important in the medical field, but is indispensable in the construction industry. Pollutants and fine dust are released on construction sites and a wide variety of dusts are produced, such as gypsum, wood, lead and fibre dusts. Effective respiratory protection is necessary to protect the health of workers and improve working conditions. Depending on the type, size of the particles and where they are deposited, dust can cause serious irritations and diseases of the respiratory tract, skin and eyes. According to the Berufsgenossenschaft der Bauwirtschaft, relevant occupational groups and hazardous activities include bricklayers, tilers, renovators during demolition work, stonemasons, carpenters, parquet layers, painters and interior decorators for interior finishing and assembly work. Particularly strong dust formation occurs during dry sweeping, dust blowing, chiselling, chiseling of screed and concrete surfaces, tiling, plastering, machine dry cutting, grinding, milling, drilling without extraction or plastering and tile chipping without an air purifier. It is prescribed that during these activities with extreme loads, work may only be carried out with an effective dust collection system.
FFP3 masks on construction sites
According to occupational health and safety regulations, companies are obliged to provide adequate protective clothing. FFP3 masks are part of the personal protective equipment that helps to improve the health of employees and working conditions on construction sites. Especially when working with materials contaminated with harmful substances such as asbestos, mould or pollutants in the air, the focus is on protecting health. Respiratory protection of the FFP classes are distinguished by their factor of the occupational exposure limit. The occupational exposure limit determines how high the concentration of a pollutant may be without posing a health risk. The protection class of the respiratory protection increases with increasing pollutant concentration. The requirements for FFP3 masks presuppose a 30-fold concentration of pollutants of the occupational exposure limit. FFP3 masks filter up to 99 per cent of all water- and oil-based pollutants. FFP3 masks are also used when processing heavy metals or radioactive substances.
Respiratory protection in other industries
Not only on construction sites do FFP3 masks protect the health of employees, but FFP3 masks for respiratory protection are also needed in industrial sectors such as the chemical or pharmaceutical industry. For example, laboratories often work with hazardous chemicals where effective respiratory protection is essential. In environmental engineering companies or in waste disposal, where employees are confronted with disposal of asbestos in addition to other waste, FFP3 masks are the personal protective equipment. As a general rule, FFP2 is obligatory for particles that are harmful to health and FFP3 always applies for substances that can be carcinogenic.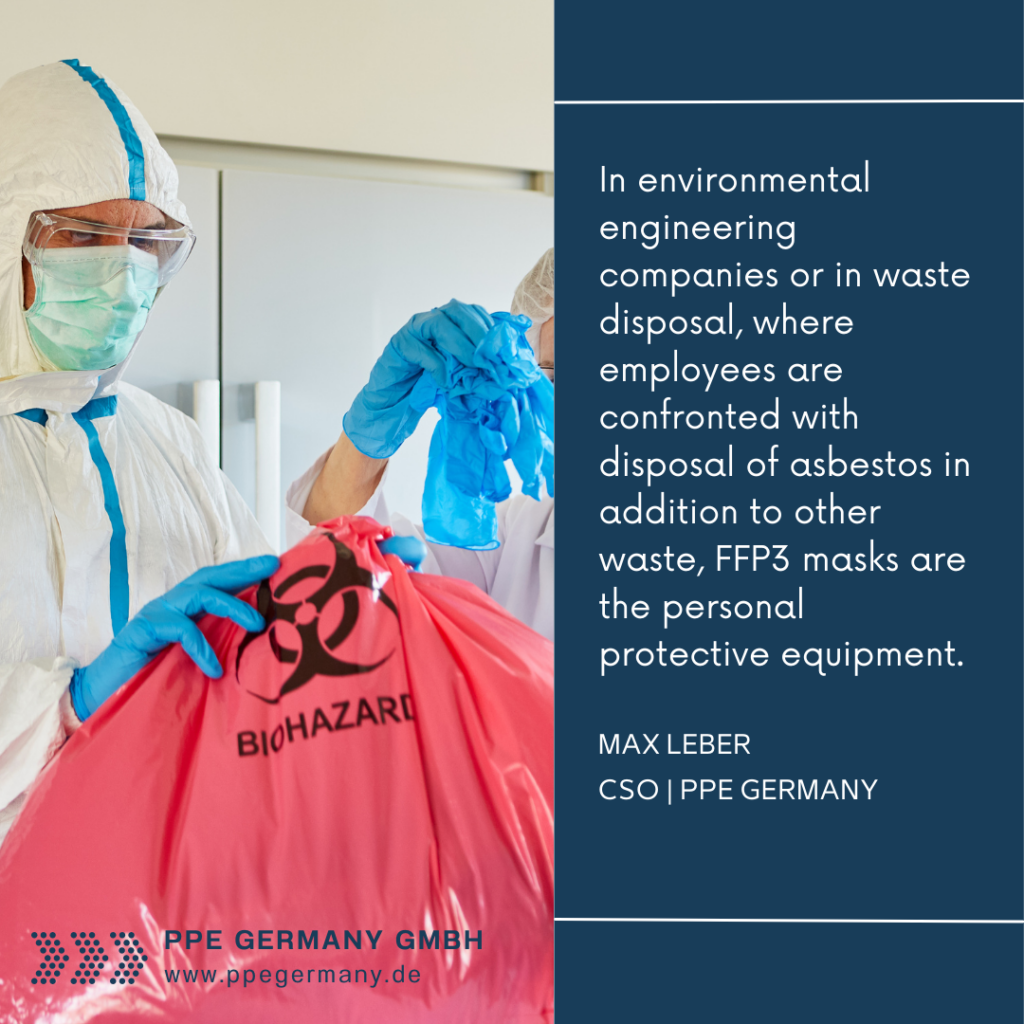 Filtering Face Piece' – FFP masks for short – known in the trades as 'dust masks'.
FFP masks are subject to clear specifications and standards that must be tested and proven in order to be certified. FFP masks go through a special legally prescribed procedure before they are ready for the market in Europe. Manufacturers are required to carry out a successful verification procedure, the conformity assessment procedure, including a type examination in accordance with the PPE Regulation (EU 2016/425), to prove that all legal requirements are met.
Only correctly fitting FFP masks protect the wearer, which is why these masks must fit tightly in order to achieve self-protection and protection of others. FFP masks are designed by the manufacturer to be disposable, should be changed regularly and disposed of correctly. FFP-3 masks must filter at least 99 per cent of the test aerosols. However, the working time with an FFP3 mask is limited. Employers must ensure that sufficient breaks and rest periods are scheduled, as breathing in with an FFP3 mask can be strenuous and unfamiliar. FFP3 masks are used in a variety of ways, often in combination with other protective measures such as goggles or protective suits. In the private sector, FFP3 masks offer a sensible protective option for renovation work, for example, or for handling substances contaminated with pollutants. The focus is clearly on the well-being and protection of health through risk minimisation of hazardous substances and protective equipment against various dusts.
V.i.S.d.P.:
Max Leber
Managing Director and Sales
PPE Germany GmbH
Contact:
PPE Germany GmbH
Mertensstr. 63-115
13587 Berlin
Germany
Tel: +49 30 202366380
Email: anfrage@ppegermany.de
Web: https://ppegermany.de
Contact: Max Leber, GF and Sales
Press contact:
PPE Germany GmbH
Mertensstr. 63-115
13587 Berlin
Germany
Phone: +49 30 202366380
Mail: presse@ppegermany.de
Web: https://ppegermany.de
Company Description:
PPE Germany GmbH, based in Berlin, are specialists in respiratory protection Made in Germany. PPE Germany is one of the major European mask producers for high-quality FFP2 masks and started production in 2020 to ensure the supply of protective equipment to the population. PPE Germany protects the health of people who have to work and live in complicated air conditions, for example viral contamination, hospital germ contamination, bacterial contamination, dust, fibres (e.g. from mineral wool), industrial fumes, fine dust. All PPE Germany products are certified and subject to the strictest testing standards. More information at: https://ppegermany.de
FAQs:
1. Are FFP3 masks only relevant for construction workers?
No, FFP3 masks are suitable for anyone who is potentially exposed to harmful pollutants. Effective respiratory protection is just as important for working with hazardous chemicals or in environmental engineering as it is on construction sites. An FFP3 mask can also provide a useful means of protection in the private sphere, e.g. during renovation work or when handling asbestos or mould.
2. How does an FFP3 mask differ from other masks?
Compared to other masks, FFP3 masks can filter more particles and offer the highest protection against harmful particles and fine dust. They also protect against aerosol particles and are particularly comfortable to wear due to their valve.
3. How long can you wear an FFP3 mask?
The working time with an FFP3 mask is limited. Employers should ensure that sufficient breaks and rest periods are scheduled, as breathing in with a mask can be tiring and unfamiliar. Workers should also be accustomed to wearing FFP3 masks to minimise potential health problems.