Made in Germany – Respirators for various occupational groups in continuous use – Reliability and availability with quality assurance – Strategic partnership for mask production from PPE Germany GmbH in Berlin.
Crises such as the COVID 19 pandemic have made it clear worldwide how quickly and intensively supply chains, production and manufacturing processes are at risk. This affected many industries, but in particular the sensitive interactions in health and care facilities, as well as the manufacture of medical equipment, as mouth-nose coverings became critical to public health overnight as a result of the pandemic. Hospitals and care facilities depend on a reliable, constant supply of high-quality oral-nasal protective masks to protect their staff and patients from infection. Looking back, the pandemic with its subsequent crises was crucial for company developments such as PPE Germany GmbH in Berlin. Max Leber, Managing Director of the company, which was founded in 2020, remembers that all of a sudden, in addition to the great uncertainty in the population, it quickly became apparent that further challenges had to be strategically overcome. "In addition to the growing fear of the spread of the virus, the health risks, the lack of knowledge, problems and challenges for the stable supply of medical devices and items were added at the same time, including supply chain disruptions in numerous industries," says Max Leber. Among other things, this provided the impetus to set up a new production centrally, for short supply chains and Made in Germany as a special promise of quality. PPE Germany GmbH is now one of the major European mask producers for high-quality FFP2 masks, with promising strategic partnerships to ensure the supply of protective equipment to the population.
Innovations driven by the crisis
Since its foundation in 2020, PPE Germany GmbH has become a leading German manufacturer of personal protective equipment (PPE), specialising in the production of high-quality FFP2 masks. "Almost forgotten today, but especially at the beginning of the Corona pandemic, there was a lack of sufficient protective equipment everywhere, not only in Germany. This was the number one issue, politicians demanded the expansion of respirator mask production in order to be less dependent on availability on the world market," Max Leber recalls.
One challenge was how to directly and in large numbers produce the required protective equipment locally, which until then had been mostly imported? Max Leber knows that on the flip side of the crisis coin are opportunities, as the development of masks 'Made in Germany' makes clear. According to the German Mask Association, 29.3 million FFP2 masks and 50.05 million surgical masks are currently produced weekly in Germany. A total of almost 4,650 people are employed in the German mask industry, yet masks are imported from abroad and political decisions are harshly criticised. Max Leber says, however, that this is a separate issue.
Necessity is the mother of invention, or rather brings forth innovations, and this is also true of the mouth-nose protection with innovative further developments. A kind of scarf has been developed that covers the mouth, nose and ear area and has a special antiviral coating, or masks developed by the Zurich University of Applied Sciences that are self-disinfecting. PPE Germany has developed the Dodo Air Medical as a premium medical mask for the clinical sector. "With these certified masks, an excellent filtering performance of up to 98 per cent can be achieved. But in addition, with the 3-layer protection, we have succeeded in developing a soft, hyperallergenic and skin-friendly mask with a perfect fit and low breathing resistance," explains Max Leber. The Dodo Air Medical Mask is the innovative product of PPE Germany GmbH, designed for everyday clinical use and medical facilities.
Advantage of Germany as a production location
The pandemic has brought the question of the production location back into elementary focus. Security of supply depends on the production location, as the pandemic of medical masks in crisis situations has made clear. "Today we know that it is often necessary to react quickly to rising demand, risks of supply chain disruptions should not be underestimated, and these must be minimised, for example by bundling European resources.", explains Max Leber. Another advantage of the accessible production location is the flexibility when it comes to emergency planning. With fast and reliable production, it is possible to react to challenges, bringing security to hospitals and care facilities that have to ensure the reliability of protective equipment supplies. Max Leber points out that, especially in crisis situations, strong cooperation between companies and government authorities is necessary and purposeful to ensure successful care for the population.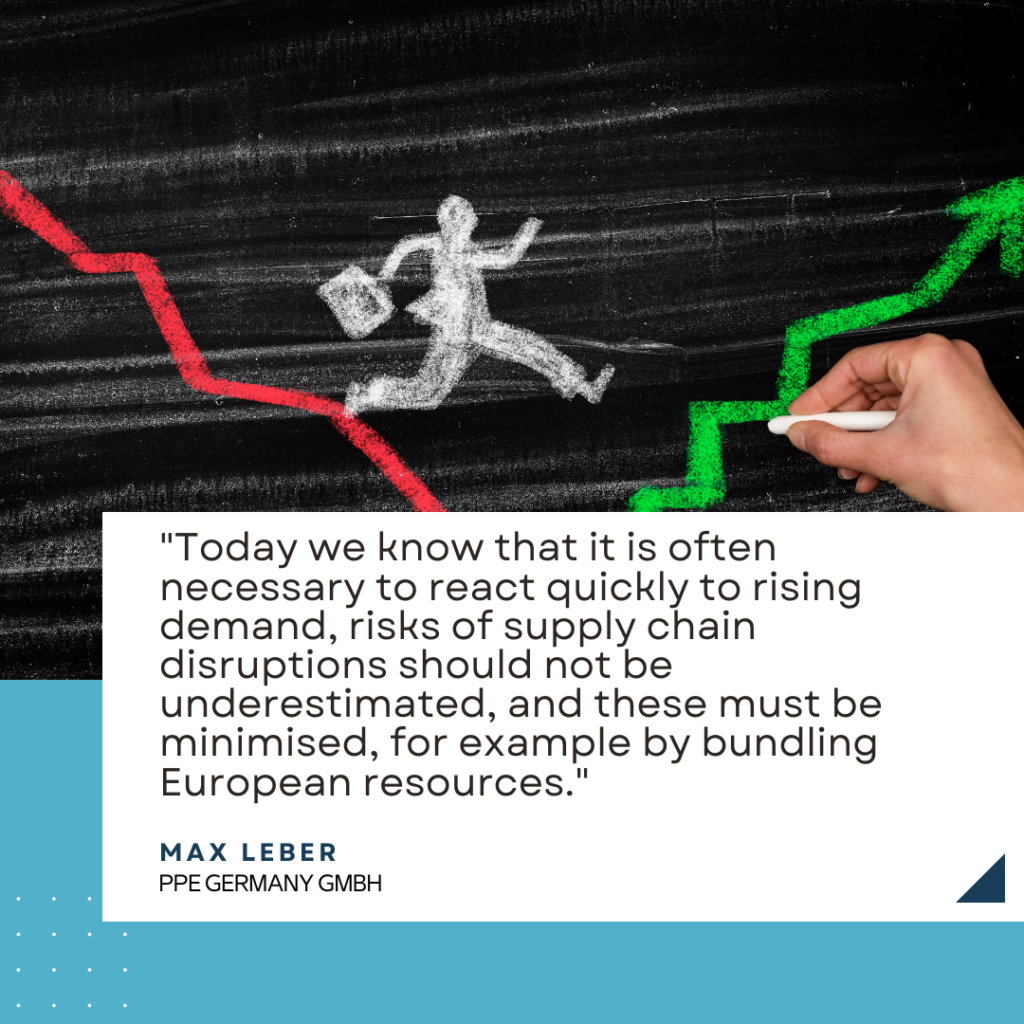 Availability for European countries
The production of masks at the German location also enables expansion on the international European market. One goal of the Mask Association Germany also sees the future in terms of European procurement law as well as competition law requirements, with the most important goal of maintaining mask production to ensure long-term supply. Companies like PPE Germany are helping to increase the availability of protective equipment in the European market. FFP2 masks are still in high demand not only in Germany but in all European countries. True to the motto: Moving more together, the production location and European cooperation play an important role in overcoming crises.
V.i.S.d.P.:
Moritz Roland
OTA training & blogger
Moritz Roland, a graduate of the English boarding school Rossall School in Fleetwood, Great Britain, with the International Baccalaureate Diploma (IB). Moritz is in vocational training OTA in healthcare. Moritz has been with abowi.com since 2022. He is particularly interested in the transformation of healthcare – putting people's health first – through technology, digitalisation and artificial intelligence to holistic health from A–Z. The blog akopjan-health.de offers numerous topics on health and occupational health management. You can reach us at contact@abowi.com.
Contact:
PPE Germany GmbH
Mertensstr. 63-115
13587 Berlin
Germany
Tel: +49 30 202366380
Email: anfrage@ppegermany.de
Web: https://ppegermany.de
Contact: Max Leber, GF and Sales
Press contact:
PPE Germany GmbH
Mertensstr. 63-115
13587 Berlin
Germany
Phone: +49 30 202366380
Mail: presse@ppegermany.de
Web: https://ppegermany.de
Company Description:
PPE Germany GmbH, based in Berlin, are specialists in respiratory protection Made in Germany. PPE Germany is one of the major European mask producers for high quality FFP2 masks and started production in 2020 to ensure the supply of protective equipment to the population. PPE Germany protects the health of people who have to work and live in complicated air conditions, for example viral contamination, hospital germ contamination, bacterial contamination, dust, fibres (e.g. from mineral wool), industrial fumes, fine dust. All PPE Germany products are certified and subject to the strictest testing standards. Further information at: https://ppegermany.de