Effective marketing strategies for start-ups: Dragon Founders shares valuable insights. The start-up world is a playground for innovation, risk-taking, and growth. But without a sophisticated marketing strategy, even the most promising business ideas can get lost. In a world saturated with a constant flow of information, the way companies interact with their target audience has dramatically changed.
This is where content marketing comes into play – a refreshingly subtle strategy that not only conveys messages but also tells stories, establishes connections, and lays the foundation for long-lasting customer relationships. "For start-ups, this strategy becomes a powerful ally that paves the way for sustainable growth and success. The start-up scene in particular needs effective and efficient marketing strategies to be noticed and established," says Maximilian Bausch, marketing and reputation expert at Dragon Founders.
The Content Marketing Symphony: Understand, Seduce, Connect
At its core, content marketing revolves around creating and sharing valuable and relevant content that addresses the needs and interests of the target audience. Maximilian Bausch knows that it's a dance between information and entertainment that not only informs but also captivates the audience. From blogs and videos to social media posts and e-books, creativity knows no bounds.
In the dynamic world of start-ups, a sustainable market entry is crucial. This is where content marketing comes into play, a strategic weapon that not only boosts brand awareness but also strengthens customer loyalty. Maximilian Bausch emphasizes that the key to a successful start-up lies in establishing oneself as an expert and building trust – and content marketing does exactly that in an impressive way.
Content Marketing: The King Solution for Branding and Customer Loyalty
Content marketing is one of the most powerful strategies for start-ups to gain visibility and build trust. High-quality content such as blog posts, videos, and infographics allows start-ups to inform and entertain their target audience. Content can be distributed through social media, email, and search engines. Maximilian Bausch, marketing and reputation expert at Dragon Founders, emphasizes, "Brand awareness is the fuel that drives the engine of success." Content marketing ignites this fuel. A well-thought-out content approach positions your start-up as a premium provider that combines expertise with passion. But that's just the beginning. "Content marketing opens the door to a trustworthy relationship with your customers – a relationship that is not easily shaken. Your expertise becomes a magnet that attracts customers and captivates them with your company."
Personas: The Key to Your Target Audience's Heart
Start-ups have an ace up their sleeves here. Because content marketing is more than just advertising – it's an opportunity to showcase your expertise, build trust, and engage in a dialogue with your target audience. By presenting knowledge and insights, the company demonstrates its competence and becomes a trusted source that customers are happy to rely on. Maximilian Bausch calls the golden rule in content marketing: "Know your target audience inside and out. Don't fight in the dark, but recognize the needs, desires, and problems of your potential customers." Personas are the secret recipe here. Define these fictional characters and tailor your content to make it seem tailor-made. This way, you create not just content but experiences that captivate your target audience.
The Numbers Speak for Themselves
The decision for content marketing is not an empty promise. It is based on facts and statistics that clearly show the way to the top. Over 85 percent of communication experts rely on content marketing to put their brand in the spotlight. But it goes beyond mere visibility: 70 percent agree that content marketing actually boosts revenue. "But despite these impressive numbers, some remain hesitant," says Bausch.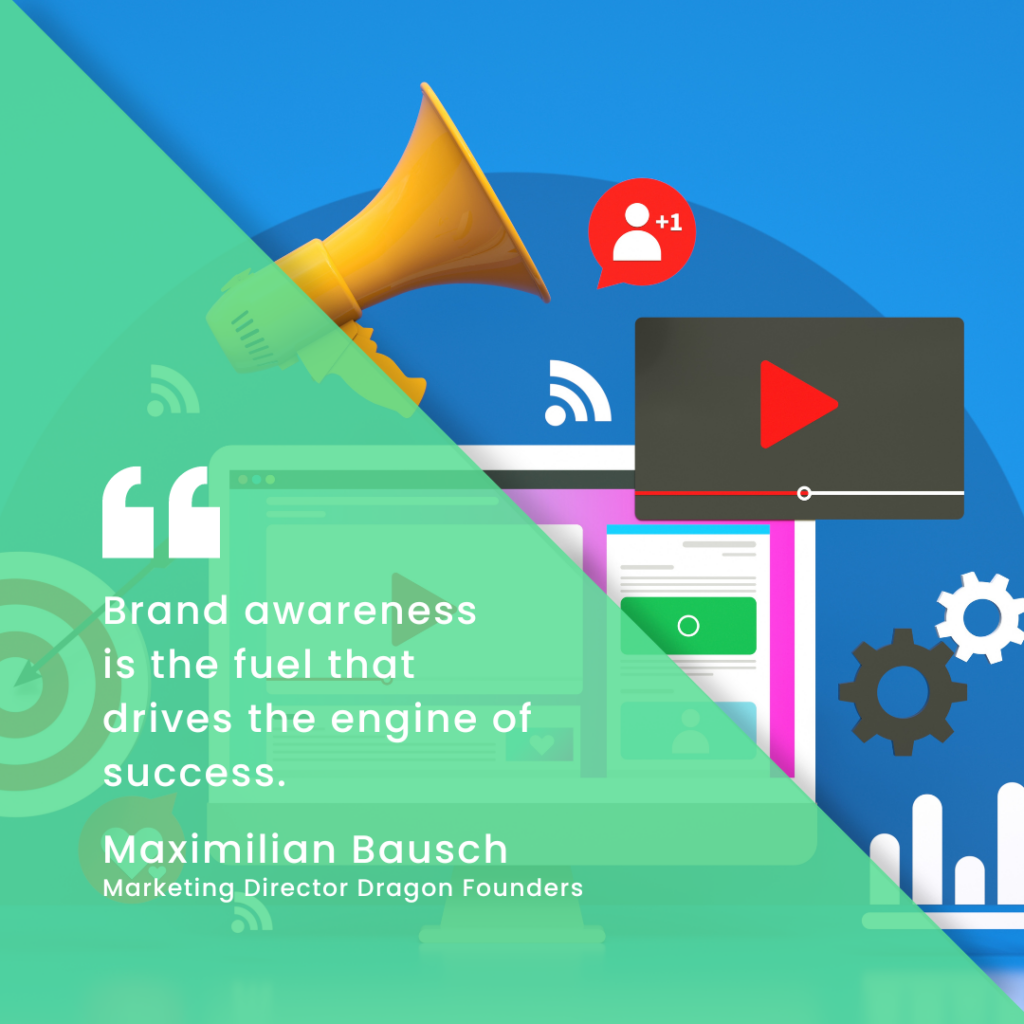 Social Media Marketing: Direct Communication
Especially for start-ups, content marketing provides a stage for creativity and innovation. It offers the opportunity to stand out from established companies and approach with a fresh perspective. From original storytelling formats to visually appealing presentations – start-ups can express their personality and uniqueness through their content. Social media marketing offers start-ups the chance to directly interact with their target audience and build a community. Platforms like Facebook, Instagram, and LinkedIn enable the sharing of relevant content and the increase of visibility. It is crucial to choose the right platforms. According to Bausch, start-ups should "be consistent, engage, and create compelling content to succeed on social media."
Influencer Marketing: Collaborating with Experts
Even more fascinating is that content marketing not only helps start-ups gain visibility but also build a loyal following. When content provides real value and addresses needs, a connection is formed that goes beyond the one-time purchase. Bausch explains, "This is the glue that forms a loyal customer base that not only returns but also recommends your brand." Influencer marketing involves partnering with industry experts who already have a loyal following. These influencers can increase the visibility of the start-up and spread the message to a broader audience. However, selecting the right influencers is crucial to ensure that their values and target audiences align with those of the company.
Search Engine Optimization (SEO): Better Discoverability
SEO is a long-term approach to improve the visibility of a start-up in search results. By optimizing the website for relevant keywords and building backlinks, the ranking in search results can be boosted. "SEO requires patience, but it is a cost-effective long-term strategy," explains Bausch.
Guerilla Marketing: Harnessing Creativity
Guerilla marketing uses creative approaches to attract attention. This can range from eye-catching street art installations to unusual stunts. Guerilla marketing can go viral and reach a large audience. However, Bausch warns that "a clear message and understanding of the target audience are crucial to avoid being misunderstood."
Email Marketing: Direct Communication with Subscribers
Email marketing enables direct communication with subscribers and the building of long-term relationships. Personalized emails can increase conversion rates and allow for direct communication with customers. Bausch emphasizes that "despite the changes in digital marketing, email marketing remains effective."
Partnerships and Collaborations: Harnessing Synergies
Collaborating with other companies that have a similar target audience can be beneficial. Partnerships and collaborations can increase reach, attract new customers, and share resources. This collaboration can include joint marketing campaigns, co-branding, or events. According to Bausch, start-ups should "look for companies whose values and goals align with their own."
Trade Shows and Events: Direct Interaction
Trade shows and industry events provide start-ups with the opportunity to directly interact with potential customers, investors, and partners. These events enable product presentations, gathering feedback, and building relationships. Bausch encourages start-ups to "use these events as an opportunity for personal interaction."
Challenges and Opportunities: The Path to Success
Challenges are the spice of entrepreneurship. In the case of marketing strategies, it's mainly human resources, budget, and content creation skills that emerge as obstacles. But they are overcomeable. When the vision is clear, investing in expertise and resources is worthwhile. The reward? Efficient use of social media (according to 79 percent of respondents), creative video and animation content (70 percent), and traditional media coverage (62 percent).
Conclusion: Your Start-up, Your Marketing Journey
The world of start-ups is a marathon, not a sprint. A long-term market entry requires foresight and strategy. In a time when consumers are looking for meaning and authenticity more than ever, content marketing is the opportunity for start-ups to establish themselves as a relevant voice in a noisy world. It is the art of seduction through words and images that opens the door to an exciting start-up success. So start your content journey today and shape the future of your start-up with every line you write.
DRAGON FOUNDERS INC.
Sebastian Kirsch
651 N BROAD ST – SUITE 201
19709 MIDDLETOWN DE
United States of America
Email: info@dragonfounders.com
Web: www.dragonfounders.com
Firmenbeschreibung
Dragon Founders is an accelerator that supports start-ups on their path to success. With a network of experienced mentors and experts, the company provides valuable coaching and resources. Dragon Founders enables start-ups to accelerate their growth and turn their business ideas into reality.