Safe and sustainable Personal Protective Equipment (PPE) – efficient FFP2 mask production "Made in Germany" requires innovation in machinery and automation. A conversation with Max Leber, Sales Manager of PPE Germany GmbH in Berlin.
The Covid-19 pandemic has demonstrated the sensitivity of the entire value chain for the production of protective equipment and services, such as logistics, cleaning, and recycling, influencing and increasing the demand for protective masks worldwide. Particulate filtering respirators, particularly those meeting FFP2 standards, have been more critical than ever. In response to these challenges, numerous German companies have developed and established innovative machinery and automation processes to produce such masks. One of these success stories is PPE Germany GmbH, located in Berlin. Max Leber, Sales Manager of PPE Germany GmbH, recalls that since the start of production in December 2020, the machines and production have not stopped to ensure the supply of protective equipment to the population. "Our clear goal is to take responsibility and make a significant contribution to a better and healthier future," says Max Leber.
With years of experience, massive investments, consistent automation, and a focus on design and quality, PPE Germany now produces more than 40 million high-quality FFP2 masks at international price levels. "In addition to our own product lines such as Karla Air and Dodo Air, we also produce as an OEM for customers worldwide who want to use PPE Germany's superior quality and the 'Made in Germany' label for their own products," says Leber. This innovative spirit has made Germany a key player in the production of such masks worldwide.
Efficient Production through Automation
In the early stages of the pandemic, there was a scarcity of Personal Protective Equipment, especially respirator masks. To counteract potential mask shortages, companies needed to ensure efficient and reliable production. This led to manufacturing companies, industries, and research institutions recognizing that automation through machinery offered significant advantages for stable mass production. The German government supported this with the federal funding program "Research and Technology Projects for the Production of Innovative Personal Protective Equipment." The aim was to set additional innovation incentives along the entire value chain for protective equipment production. "The challenges lay in pandemic management, but at the same time, it was about strengthening competitiveness and preparing for future challenges," says Max Leber. The funding focuses on sustainability, including circular economy aspects, with functional capabilities and tapping into new areas of demand. Furthermore, it aligns with automation through digitalization of production and services as contributions to the efficiency of the National Health Protection Reserve (NRGS), as well as standardization and the testing and certification process.
For example, automation can minimize human errors while increasing production capacities. Moreover, the use of advanced technologies can significantly improve the quality of Personal Protective Equipment, particularly enhancing filter efficiency in masks.
Innovative Technologies in Mask Production
One company that employs innovative technologies in mask production is PPE Germany GmbH, with its own production facilities in Berlin. The company manufactures high-quality and reliable respirator masks for use in healthcare, occupational safety, as well as private and public sectors. The "Dodo Air Medical" mask model represents an innovation that not only protects patients but also medical personnel. "Thanks to suitable materials, novel design, and dual certification as an FFP2 mask and Class 1 medical product, this innovative mask is now used not only in hospitals but also in pharmacies and care facilities," explains Max Leber.
The innovations in PPE Germany products lie in the development of their unique structure using German-made materials, which have allowed advancements in areas such as breathing resistance and filter performance. Max Leber elaborates, "It is only through the continuous development of materials, filter layers, and outer layers that we can improve products and drive innovation." PPE Germany relies on automation, advanced machinery, and materials to ensure high mask quality. "With the use of specially developed PPE-Nano filter layers, PPE Germany has succeeded in achieving excellent filter performance despite using less material and producing a much thinner mask," says Max Leber.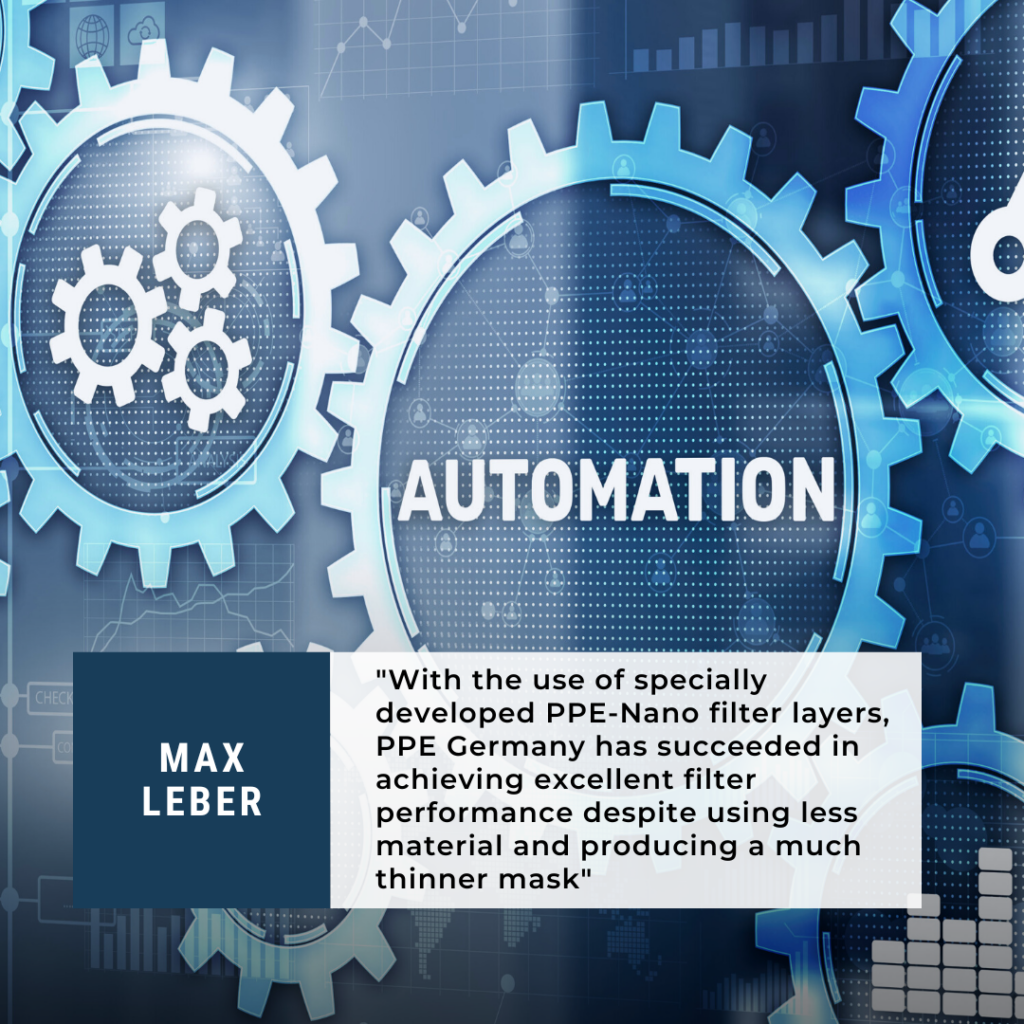 "Made in Germany" Represents Quality and Reliability – Know-How and Expertise Are Key
"Made in Germany" represents high quality and reliability. Companies like PPE Germany GmbH have also focused on developing a perfect fit and lower breathing resistance to ensure comfortable wear for extended periods. However, it is not just technology that ensures high-quality and efficient mask production; the know-how and expertise of the employees are crucial. "Thanks to their expertise, the Dodo Air Medical model, for instance, achieves a filter efficiency of more than 97%, along with low breathing resistance and comfortable wear," says Leber.
Overall, the mask production industry demonstrates a strong drive for innovation, with companies rising to the challenges. Efficient processes are being developed and applied to ensure high-quality production. The combination of machinery, materials, and human input results in large-scale and high-quality production of particulate filtering respirator masks meeting FFP2 standards, "Made in Germany." Companies that invest in innovative technologies and skilled employees have a clear competitive advantage and can contribute to ensuring a continuous supply of protective masks in the future.
V.i.S.d.P.:
Moritz Roland OTA Training & Blogger Moritz Roland, a graduate of the English boarding school Rossall School in Fleetwood, UK, with the International Baccalaureate Diploma (IB). Moritz is currently undergoing OTA training in healthcare. Since 2022, Moritz has been contributing to ABOWI-Reputation.com. His particular interest lies in the transformation of healthcare – with the health of individuals at the forefront – through technology, digitalization, and artificial intelligence to promote holistic health from A to Z. The blog akopjan-health.de offers numerous topics related to health and occupational health management. You can reach us at contact@abowi.com.
Contact:
PPE Germany GmbH
Mertensstr. 63-115
13587 Berlin Germany
Tel: +49 30 202366380
Email: anfrage@ppegermany.de
Web: https://ppegermany.de
Contact person: Max Leber, Managing Director and Sales
Press Contact:
PPE Germany GmbH
Mertensstr. 63-115
13587 Berlin Germany
Tel: +49 30 202366380
Mail: presse@ppegermany.de
Web: https://ppegermany.de
Company Description:
PPE Germany GmbH, based in Berlin, specializes in respiratory protection "Made in Germany." PPE Germany is one of the major European mask manufacturers for high-quality FFP2 masks and started production in 2020 to ensure the supply of protective equipment to the population. PPE Germany protects the health of people working and living in challenging air conditions, such as viral contamination, hospital germ contamination, bacterial contamination, dust, fibers (e.g., mineral wool), industrial emissions, and particulate matter. All PPE Germany products are certified and undergo strict testing standards. More information at: https://ppegermany.de
FAQ
Why are FFP2 masks so important?
The Covid-19 pandemic has greatly increased the demand for protective masks, especially those that meet FFP2 standards for particulate filtering. These masks provide higher protection against the virus compared to conventional masks, making them indispensable for individuals at a higher risk of infection.
What role does "Made in Germany" play in mask production?
"Made in Germany" stands for high quality and reliability. In times of pandemics, this becomes